SXP's Reconciliaton Action Plan
We are pleased to release our Reconciliation Action Plan (RAP), providing a framework for improving our engagement with, and respect and admiration for, Aboriginal and Torres Strait Islander Peoples.
Listing our reconciliation goals, clearly defined action items, deliverables and timelines, the RAP is led by our RAP Working Group – consisting of representatives from our state management, compliance, recruitment and business development teams. Our corporate commitments include:  
Implementing the SXP Reconciliation Action Plan 

 

 

Appoint an Aboriginal and Torres Strait Islander Advocate in our business to drive our efforts 

 

 

Increase supply arrangements with Aboriginal and Torres Strait Islander-owned businesses

Engage Aboriginal and Torres Strait Islander recruitment agencies in each state to help achieve our goal of increased Aboriginal and Torres Strait Islander employment 

 

 

Meet with local Aboriginal and Torres Strait Islander community groups, to support local efforts including charity donations and sponsorships

 

 
We invite all of our clients, suppliers and stakeholders to join us on our journey.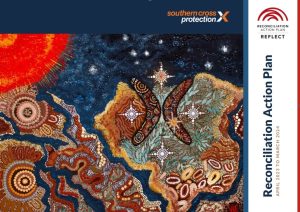 Aboriginal and Torres Strait Islander Participation
Employment of a Diverse and Inclusive Workforce 
We are excited to announce that Southern Cross Protection is partnering with Six Seasons Resources and I24S New Training Initiative to support, work with and empower diverse Security Officers. We are proud to champion and represent Indigenous Peoples in the Security Industry through their unique training scheme.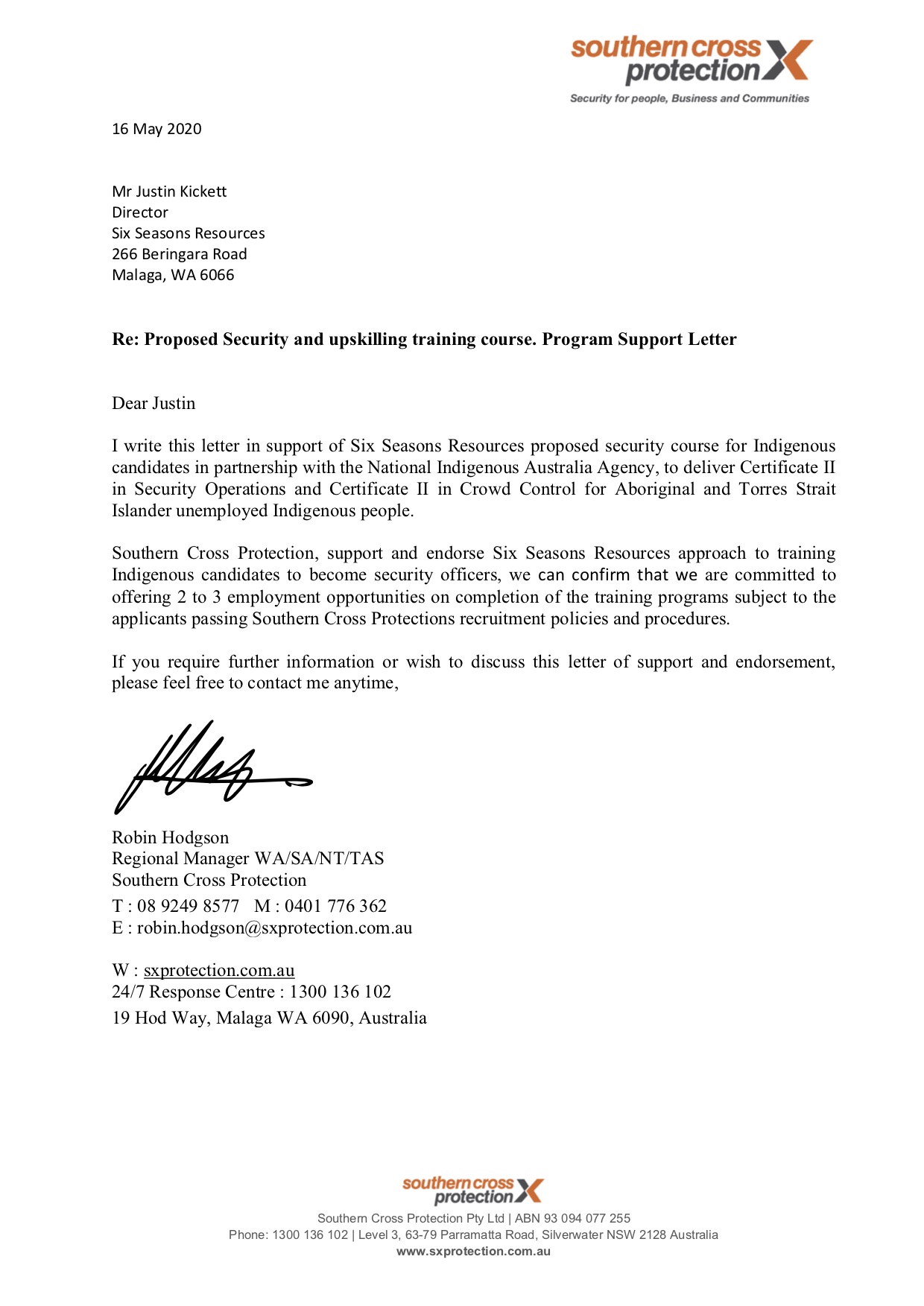 We believe that the security industry, with its varied skill levels and touch points across the Australian population, is uniquely placed to help bridge this employment gap. SXP will lead the initiative by raising our client's awareness of Indigenous disadvantage and encouraging them to take practical steps to help alleviate it – namely, by employing Indigenous people and engaging Indigenous-owned businesses.
By working together, we can provide Indigenous people with meaningful and robust employment opportunities across this broadly skilled industry. Greater employment will, in turn, lead to sustainable economic and cultural benefits to Australia's Indigenous community.
Southern Cross Protection formed a partnership with Six Seasons Resources and I24S in 2019. Both are Supply Nation Certified Indigenous owned Aboriginal security services business based in Perth, Western Australia.

This is one of the first Aboriginal security partnership of its kind in Australia. Both Six Seasons Resources and I24S are committed to bringing about positive, sustainable social and environmental change.

Both Six Seasons Resources' and I24S have a hands-on management team which is led by Directors, Justin and Angela Kickett, both of whom have combined over 20 years' experience law enforcement, security, indigenous affairs and training. Justin is a passionate advocate for Aboriginal affairs, who speaks continuously about how business can be used to develop strategies to ignite tangible results and outcomes for Aboriginal people. Our partnership with them both supports the Southern Cross Protections Group objectives for Aboriginal employment, local community engagement, social impact, and offering training and development opportunities for our Indigenous staff.
Southern Cross Protection celebrates gender, cultural and ethnic diversity through our "One Tribe" philosophy. Our shareholder participates in the Indigenous Employment Initiative coordinated by the Federal Government and we must always comply to the following:
Ensure selection processes are culturally inclusive where those who are recruiting are culturally sensitive
Demonstrate a full understanding of workplace discrimination laws
Provide work experience and internship programs for people from culturally and linguistically diverse and Aboriginal and Torres Strait Islander backgrounds
Establish mentoring arrangements and providing cultural awareness training to support the integration of employees from culturally and linguistically diverse backgrounds into our workplace
Sponsor Indigenous Community Outreach & Patrol Services

Southern Cross Protection sponsor the Larrakia Nation Outreach service in Darwin, which provide an alternative response to reduce anti-social behaviour in public spaces. They also provide people with options to access to more stable accommodation, AOD assistance, return to country, other NGOs and government services.
The Outreach Program also encourages and supports individuals to maintain social connections with home communities, including liaison with our Return to Country Program.