Southern Cross Protection – A Security Company that Acts on Intelligence with Care and Precision
We exist to protect you, your people and your assets, allowing your organisation to grow and prosper. We provide intelligence based solutions executed with precision. These solutions always demonstrate the utmost care for our customers.
Since our foundation post-WWI in Melbourne it has been our goal to be a progressive and pioneering security company. Today, as a market leader in patrol services we strive to live up to our reputation, provide value to our clients and operate a responsive and reliable network with a sense of integrity and duty to the community at large.
Our Services
We do more than patrol the streets, secure properties and protect assets. As far as security companies go, our goal is to serve. We do this by providing intelligence based protection services based on risk minimisation strategies, that over 4000 clients nationwide rely on for a wide variety of security needs.
As an Australian owned and operated security company we've assembled an extensive team of experts, with patrol officers conducting an unprecedented 16,000 patrol visits every night from 28 localised branches across Australia. This means we have the coverage, capability and local knowledge to provide services suitable to you, across Australia.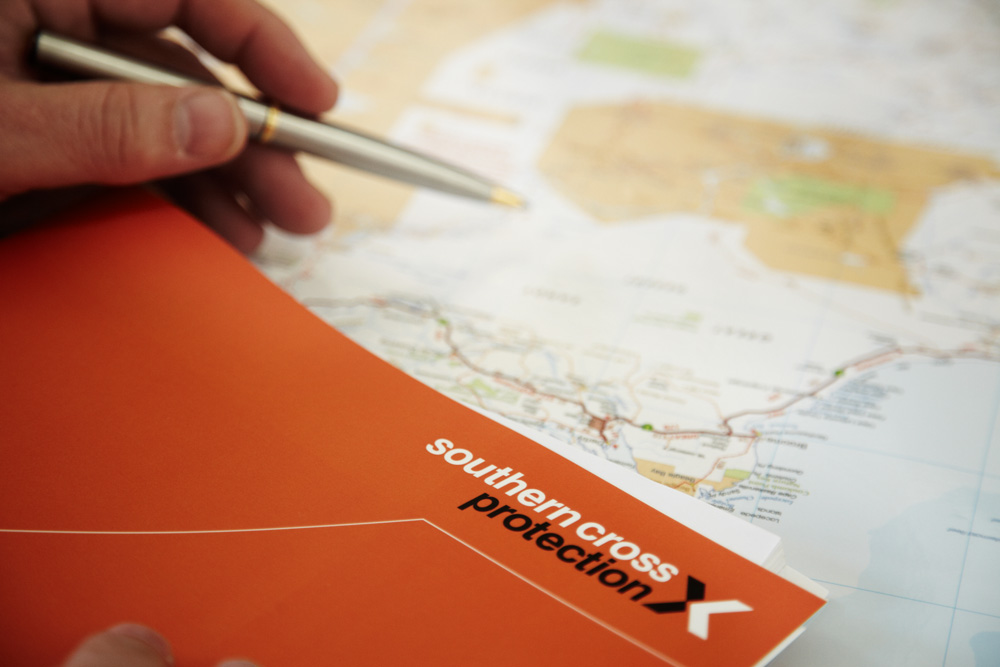 Our Goal
Whatever your industry and budget we have the ability to deliver an effective security solution. We not only utilise precision tools as part of our information and telecommunications systems, we have a physical staff presence that work towards reinforcing our values in everything we do, every single day.
When you use a Southern Cross Protection service you get a responsive and passionate approach to safety. We will work with you to meet your specific risks with discipline and respect.
Southern Cross Protection operates the largest, national security patrol network. A national footprint that is able to provide the local communities, businesses and people with a holistic, intelligent approach to security on a localised basis. Our scale creates access for all local businesses to precision technologies and risk management expertise at an affordable price. Whatever your security budget – Southern Cross Protection has an effective solution for you.
Get in Touch
To discuss how Southern Cross Protection can help your business, organisation or community, call us today on 1300 136 102 or enquire online. We would love to discuss your security needs and to work for you to provide a safe and secure environment.